Wir sind derzeit offen für neue, großartige Projekte. Sprich uns an – lass uns gemeinsam deine kreativen Ideen zum Leben erwecken und etwas Aussergewöhnliches schaffen. Lass uns dein Projekt oder deine Idee noch heute besprechen.
We are currently open for new awesome projects. Get in touch – let's bring your creative ideas to life together and create something outstanding. Let's discuss your project or idea today.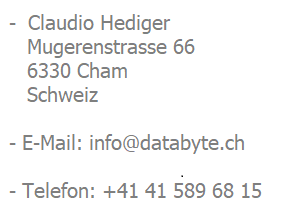 databyte ist eine zur Eintragung angemeldete Wortmarke.
Der Betreiber dieser Website untersagt die Verarbeitung aller auf dieser Website veröffentlichten Kontaktadressen und personenbezogenen Daten zu Werbezwecken jeglicher Art.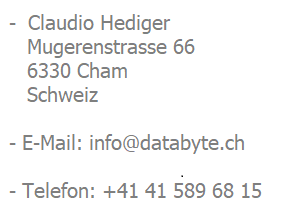 databyte is a word mark applied for registration.
The operator of this website prohibits the processing of all contact addresses and personal data published on this website for any kind of advertising purposes.