At Databyte, we already use the possibilities of Design Thinking in many projects.
Thanks to this approach, we have already been able to develop many exciting innovations – together with the users.
In each project we have learned a lot and discovered some unexpected needs!
If you want to experience the potential of the Design Thinking process, contact us and we will start your project together with our #Co-Creation approach!
What is design thinking?
Design thinking is a method for solving problems in a creative manner.
The foundation of design thinking is human-centered.
It promotes businesses to put the needs of the customers first, which results in better internal procedures, services, and goods.
What is the underlying human need when you get down to develop a solution for a business requirement should always be your first consideration.
Using design thinking, you combine what is practical from a technological and financial standpoint with what is desired from a human perspective.
Additionally, it enables persons without design training to employ innovative solutions to a wide range of problems.
Starting the process requires doing something and asking the appropriate questions. It involves embracing little mindset changes and approaching issues differently.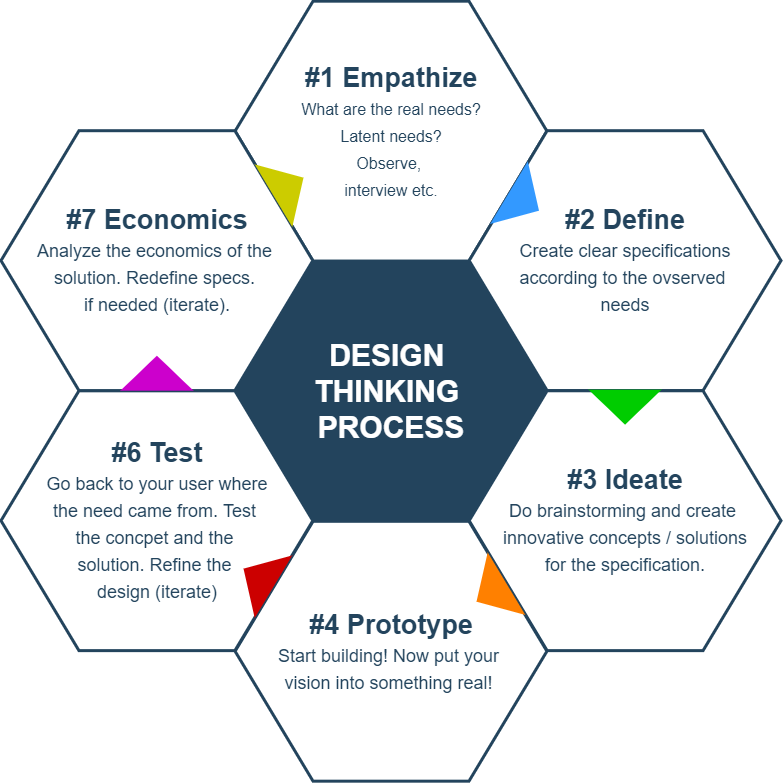 Your group or business can benefit from design thinking if:
Become more aware of the unmet demands of the target audience for your creations (customers, clients, students, users, etc…).
lessen the risk involved with introducing novel concepts, goods, and services.
Create revolutionary, not simply incremental, answers.
Faster learning and iteration
Design Thinking Phases
Although the phases of design thinking are taught as sequential processes, the process is not usually that way in reality. You might repeat some of these actions multiple times, or you might even switch back and forth between them. Going through the design thinking phases will help you go from a blank page to a fresh, creative solution.
#1 Empathize: Determine a compelling question that motivates others to look for original solutions and reach out to your users to see and understand what they really need.
#2 Define: Based on your observations, define the specifications of a potential solution.
#3 Ideate: Create Ideas — Explore alternatives beyond the obvious in search of innovative concepts and do brainstorming.
#4 Prototype: Create rudimentary prototypes to learn how to improve ideas by making them tangible.
#5 Test to Learn: Improve concepts by soliciting input and moving forward with experiments.
#6 Economics: Create a human tale to inspire others by sharing it and also analyze the economics of the solution
How to start your Design Thinking process with few steps?
1. Gather information via interviewing, observing, and practicing empathy
The first step in producing goods and services that customers need and want is getting to know them. Never presume to know someone's thoughts or emotions. A key component of the design thinking methodology is gathering data about your target audience. Utilize these advice to improve your interview skills.
2. Create Rough Prototypes to Discover Unmet Needs
To prototype, you don't need a lot of time or money. Before investing in production, start by putting ideas on paper or using other readily available resources, such as a slide presentation, to collect feedback and better understand the demands of your target audience.
3. Reframe issues as inquiries
When faced with a problem, try to not immediately discover a solution. Change your approach and try to come up with a question that will help you make a small improvement or get closer to the problem's source.
4. Conduct Research to Gain Knowledge of the Past, Present, and Future
In order to gain insights into the needs of people, databyte frequently employs a variety of research methods, including but not limited to immersive empathy, interviewing, and exploration of extreme users.
In general, there are three categories of research that you can conduct: generative research, evaluative research, and validating research. Research that is generated looks at needs and uncovers new prospects. You can iterate more effectively by collecting feedback from experiments through evaluation research. While traditional market research, also known as validating research, aims to understand what is happening right now, these two types of study are concentrated on the future and novel ideas. To focus on both what is happening right now and what might happen in the future, balance your research strategy.